"The Songs of Elvis - invites Ivars Pçtersons".
September 6th, 2008, concert hall "Dzintari".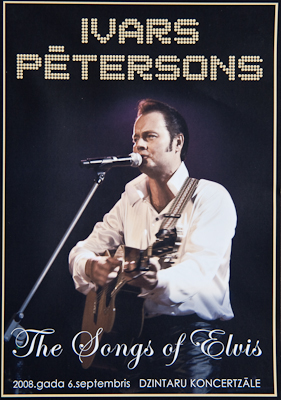 DVD of the concert can be purchased from Ivars Petersons.
Bauska annual country festival. The stage by Bauska castle, July 8th, 2006
Eurovision national selection final concert. Participation with self composed song "Come with me." Ventspils Olipiskais Center, year 2004.
Country Music Festival "Miranda 2004", which annually takes place in South France city of Miranda. Peterson Band - the first band from Eastern Europe, which is invited to participate in this prestigious festival. July 6-11th, 2004.
"G. Gershwin - 100. Concert dedicated for the excellent jazz pianist and composer George Gershwin. Latvian National Opera, 1997.